Take flight with the leaders in aerial equipment. Our professional quality aerial yoga and aerial arts equipment suits needs for all invidivuals. From gentle inversion therapy, to intense strengthening, lengthening and realigning your body, we will help you find the equipment you need. Jump right in to explore movement art, intensify your mind-body connection and challenge your inhibitions.
---
SHOP THE BEST AERIAL EQUIPMENT
WHY AERIAL YOGA GEAR

STUDIO QUALITY
All equipment is top quality and comes with a 1-Year Warranty. It's built to last for many, many years!

FAST SHIPPING
Fast shipping to many countries on most items! We work with the best supply chains to get you your order fast!

EXPERT HELP.
We are here to answer any questions you might have about getting started, and provide training tutorials to help in your journey!
OUR STORY
We set out on a mission to make aerial yoga accessible to everyone, and it has grown to so much more! Learn who we are, what we stand for, and how we became the #1 source for aerial yoga equipment worldwide. Now we offer everything related to aerial arts!
---
WHY AERIAL?
---
Everyone has their own reasons to fly. From performing arts, to fitness, to therapy, we are here to help you in your aerial journey. We recommend starting with the Yoga Hammock Set if you're new because it is easiest to start with!
Our Aerial Yoga Hammocks are top quality - you will feel the difference. The soft, strong, supportive nylon tricot aerial hammocks provide comfort and versatility for many uses. Plus they come with everything you need to get started. Our products are easy to install - we guide you through every step of the way!
Relieve back pain
Reduce stress
Counter Insomnia
Increase flexibility
Improve posture
Stretch your spine
Experience aerial endorphins
Build strength
Inversion therapy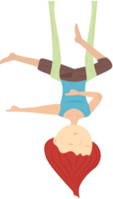 The yoga hammock can stretch your spine up to several inches and help improve your posture. Measure yourself before and after an hour session of aerial yoga with inversion therapy to see if you gain any length!
Aerial is for EVERY BODY. No matter your level of fitness or yoga experience, you will amaze yourself with what you can achieve with the yoga hammock. When cradled and supported by the hammock, you will be able to stretch and strengthen your body in new ways. And you will experience all the benefits of hanging upside down in an easy and safe way.
CUSTOMERS LOVE OUR GEAR!
GREAT PURCHASE
Love the product so simple to use and install! Helps with my back pain and tension! Everyone should get one!!!!!
MICHELLE O.
GREAT FOR HOME PRACTICE
I am in love with my aerial hammock. It shipped quickly, arrived in great shape, and was easy to set up following the video tutorial on the website. I have been studying aerial at a local studio, and it's the most invigorating exercise I've ever done. Having my own hammock to continue my practice at home is already making my life better.
MALA
Perfect, all the way!!💕
I can't begin to tell you how happy we were with this purchase. Beautiful quality and the customer care was amazing !! Available to help you answer any questions. We are getting this for our 10 year old daughter as a Christmas gift. She wanted one and is going to be super excited. I believe all of her friends are going to want one also once they see hers! I️ see a new trend starting here!!
MELISSA
All my dreams came true!
I wanted this in my office and I have it now! The owner was super helpful with all my questions. It was easy to install and very good quality. I get to hang upside down and do all the poses I learned in aerial yoga class. I am trying to get my clients on board to order for themselves. Good company. Good product. Good people!
Alize Campbell
Your satisfaction is our priority.
In case something doesn't work out, we offer a 1-Year Warranty and a 30 Day Return window. We stand by the quality of our products and if you experience any issues, we will be happy to assist. We are here to help answer any questions and reply to all inquiries within 1 business day.
STUDIO DISCOUNTS
Starting a new studio? Adding aerial arts classes to your schedule? We offer the best prices around on aerial equipment. Choose from over 20 colors, and get all your questions answered with our tips and tricks to get your space set up safely.
Aerial Fitness Provides Active Inversion Therapy!
Did you know that 75-80% of Americans experience back pain in their lives?
In fact, back pain is the second leading cause of doctors' visits according to the Journal of General Internal Medicine.
Back pain is most often caused by a lack of flexibility or a lack of strength. These can be contributed to by
Sedentary computer work Heavy lifting Frequent bending Weak abdominal muscles Lack of movement in everyday life Stress Poor posture
Given the challenges we face in everyday life, all of us can be susceptible. Whether you already are experiencing pain, or you want to be proactive to care for your spine to prevent future issues, try the yoga hammock and you will not be disappointed!
Inversion therapy decompresses your spine, relieving pain, realigning your back, and reducing muscle tension. These inversion benefits compound the flexibility and strength boosting qualities of yoga, which is why aerial yoga provides a unique stretch to your spine to relieve the compressing day to day effects of gravity.
Inversion therapy with the yoga hammock is one of the most accessible ways to get spinal traction, and allows for gentle movement when inverted for the ultimate stretch. Traction is a treatment that pulls apart the spine to stretch and lengthen your back. If you experience pain, always go to a doctor or chiropractor first. Ask about traction and the use of inversion therapy to strengthen your abdominal muscles. A healthy spine has full, strong disc tissues that allow for a full range of motion.
As always, check with your doctor before beginning an exercise program. Some health conditions are not suitable for aerial arts. Please review our terms of service before purchasing.
Check out our latest aerial yoga blog posts for more aerial reads!
Connect with us on Instagram! Let's be inspired, together.