Aerial Yoga Academy
Take your love of aerial yoga to the next level - become an Aerial Yoga Academy certified teacher!
Aerial Yoga Academy is the leading online international training school for Aerial Yoga, registered through the World Yoga Alliance. If you're looking for a comprehensive Aerial Yoga course with all the resources you need up front to learn and teach, Aerial Yoga Academy is the course for you.
Aerial Yoga Academy Teacher Training is available in two formats:
Learn on your own time with this comprehensive online course. Complete your 250 hour certification through video conferencing, and master trainers are available to answer questions every step of the way.
Experience in-person Aerial Yoga immersion. In addition to the online training, get in-person training hours, learn assists and massage. Network and gain inspiration from some of the leaders in Aerial Yoga.
With either option, graduate as a 250hr World Yoga Alliance Certified Aerial Yoga Teacher ready to start your own studio, start teaching, or expand your own practice.
There are no contracts and 0 fees after the initial course. All the materials, poses, modules, and information is available upfront. Learn how to build your own aerial yoga brand and teach your own style.
Why online? You have complete flexibility of when you want to learn and which aspects of Aerial Yoga you want to focus on. Plus, it's a huge cost savings! Save on accommodation, food, travel costs by completing most or all of your training remotely.
Teach anywhere in the world upon completion of the course.
Prior experience in practicing or teaching yoga (aerial or mat yoga) is a bonus, but not required! This course starts at level one, so all levels are welcome to enroll and can learn on their own pace. We work with you on an individual level to ensure you have the support you need to succeed.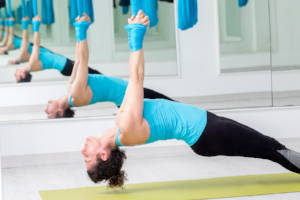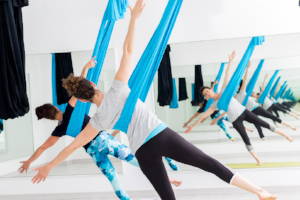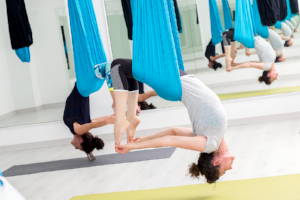 250hr International Aerial Yoga Certificate
Lifetime Membership + Free access to all future course additions
COMPREHENSIVE ONLINE TRAINING:
90 Hours of Aerial Yoga Techniques
30 Hours of Aerial Yoga Methodology
100 Hours of Aerial Yoga Practicum
30 Hours of Traditional Principles and Techniques
Over 180 hours of contact guidance in all areas
LEARN
Responsibilities of a yoga teacher
Health check-contraindications
Cue tips to start & end your class
Cue tips generally
Cue tips for inverting
Tips for sequencing
Tips to relieve nerves and gain confidence
Tips for spotting
Aerial Yoga Benefits
Systems of body
Pranayama
Patanjalis Sutras
Chakra System
Meditation tips
Aerial Yoga Massage
Much more!
Instant access to our comprehensive Aerial Yoga manual
Instant access to step by step video demonstrations of each pose
Instant access to bonus gifts
Over 80 Aerial yoga poses
20 Bonus Intermediate to Advanced Poses + 30 Bonus Flying Fitness Moves
LEARN
6 Sections of poses

1. Standing Strengthening poses
2. Core poses
3. Inverted poses
4. Standing Stretching poses
5. Seated Stretching poses
6. Recovery Poses

Rigging Instructions
Aerial Yoga Business Tips
Much more!
Students typically complete their certification in 3-6 months, however, you complete it faster or slower depending on your schedule and dedication.
Access to Aerial Yoga Academy is FOR LIFE! Even after you graduate, your membership never expires, so you can review course content at anytime.
We release a new module every year - so you will continue to receive value and new content for years to come.
2018: Aerial Restorative
2019: Aerial Pilates
2020: Aerial Flips and Tricks
Aerial Yoga Gear is an affiliate partner with aerialyogacademy.com. Enroll with us to receive all of the Aerial Yoga Academy course content PLUS our additional resources, discounted equipment, and personalized guidance!
Online isn't enough for you? We also offer Onsite Training!
Get hands-on training with master aerial yoga instructors - learn tips and tricks for guiding classes, finding teaching opportunities, setting up your own studio. Ask your questions in person and network with like-minded individuals. This option is perfect for those also completing higher level yoga certifications that need hands-on hours.